Liturgy and Prayer
A Prayer for the Holy Land
INSET day on Catholic Ethos
We concluded spring term with a staff INSET day centred around an explanation of our Catholic Ethos, under the title 'Real education is not possible without the light of truth' – Pope Benedict XVI, 2005.
The day was planned around five sessions each one exploring the overall theme.
We were privileged to have external speakers who led the sessions:
Sr Linda and Sr Anna – focused on Catholic Ethos and Behaviour. They shared with staff, ways in which young people can be challenged to face up to the important priorities in life. They also shared their love of music and dance showing staff how they might do this with pupils to encourage participation in prayer.
Canon Luiz led a session on the History and Context of Catholic Schools in Education. He used the story of the Paralysed Man as a metaphor for the role of teachers in education – carrying the young to Jesus in faith and helped staff to articulate what makes Catholic Education distinctive. One member of staff commented 'Canon Luiz was a very engaging speaker and spoke very well about the context on history of Catholic Education'.
Sr Judith's session focused on Catholic Education and the Curriculum. In her session, she shared her call for a radical new curriculum in Catholic Schools that would help develop and create future leaders – especially leaders that can be productive and successful in the world of the 21st Century. One member of staff explained that 'The session on Curriculum and Ethos was very instructive and crystalized what we have been trying to achieve as a school very well'.
Kate Wilkinson is the Chaplain at All Hallow's RCHS, Penwortham and led a session on improving and energising Form Prayer and Assemblies. Kate shared excellent ideas on how to develop prayer and worship that brings all staff and pupils into a stronger faith community. We look forward to the impact of this as we move towards normality in the new academic year.
Fr. David and Fr. Damien led staff in prayer in the school chapel. Staff were shown how to meditate, the power of letting God speak to you through silence and how to pray simple and powerful prayers. They also finished the day in prayer as a group of staff led by the Priest.
We are all very grateful for the dedication and hard work shown by our visiting speakers. As one member of staff summed up the feeling of many staff about the day in saying 'I thought the day was exceptional! I really enjoyed all of the sessions and I took a lot from it personally and professionally. All of the speakers were inspiring!
Lenten reflections and prayers
Lent is a period of 40 days during which Christians remember the events leading up to and including the death of Jesus Christ, whose life and teachings are the foundation of Christianity.
The 40-day period is called Lent after an old English word meaning 'lengthen'.
It is a time of reflection and of asking for forgiveness, when Christians prepare to celebrate Jesus's resurrection at the feast of Easter, which comes at the very end of Lent.
We have set up a 'notice board' on PADLET where you can post your prayers and reflections - reflecting on what you are grateful for in your life and you can share your Lenten focus with others.
To share your prayers and reflections and to read the others that have been posted just click on the link below:
https://padlet.com/cheethama/beo63p34hsvlb2jq
Feast Day of St. Paul's Conversion
Monday 25th January is the Feast Day of the Conversion of St Paul to Christianity. St. Paul the Apostle was the greatest of the early Christian missionaries. He first appears in the Acts of the Apostles under the name of Saul. Saul was raised in the Jewish faith as a Pharisee trained in the strict observance of God's Law. He believed the Law should be obeyed by himself and all Jews. Saul was upset by the early Christian Church, believing that the early Christians had broken away from their Jewish traditions. He actively persecuted the Church in Jerusalem. As the first Christian martyr Stephen was being stoned to death, Saul looked after the cloaks of the persecutors (Acts 7:58)
Paul then travelled to Damascus to further persecute early Christians. On the road to Damascus Saul had an encounter with the Risen Jesus Christ (Acts of the Apostles 9:1–19, Galatians 1: 13–14). Jesus asked, "Saul, Saul, why are you persecuting me?" Paul replied, "Who are you, sir?" Jesus responded, "I am Jesus whom you are persecuting" (Acts 9: 4 – 5). Jesus then sent Saul into Damascus to wait for further instructions. Saul was shaken and blinded by the experience. When a Christian named Ananias came and baptised Saul, his blindness went away. As a result of this encounter Saul became a follower of Christ and changed his name to Paul. He was now convinced that fellowship with the risen Jesus Christ, not the observance of the Law, was all that was needed to receive God's promise of salvation. (Galatians 1:11–12; 3:1–5)
Christian Unity Week
The Week of Prayer for Christian Unity is an ecumenical Christian observance in the Christian calendar that is celebrated internationally. It is kept annually between 18 January and 25 January, and is an opportunity for all Christian denominations to pray for unity within Christianity.
Show your support for Christian Unity by posting unity messages and details of your events to the Week of Prayer for Christian Unity Twitter wall – simply add the #wpcuwall hashtag to your Twitter post (note there is a delay before they appear).
You can also find updates about the Week of Prayer for Christian Unity on Twitter by following the #wpcu2021 hashtag.
The Epiphany
This feast marking the end of Christmas is called "Epiphany."
In the Latin Rite of the Catholic Church, Epiphany celebrates the revelation that Jesus was the Son of God. It focuses primarily on this revelation to the Three Wise Men, but also in his baptism in the Jordan and at the wedding at Cana. In the Eastern rites of the Catholic Church, Theophany – as Epiphany is known in the East – commemorates the manifestation of Jesus' divinity at his Baptism in the River Jordan.
Let's pray:
For those who seek a Saviour, we lead them to the Stable, to the One who was born,
To bring freedom, forgiveness, liberty.
For those who seek Assurance, we lead them to the Light.
To the One who opens eyes - to understanding God's Word -Truth.
For those who seek Forgiveness -
We lead them to a Grace beyond comprehension
To wholeness, healing and peace.
Amen
The Birth of Christ
A prayer for us all to say:
Lord Jesus,
we lift up our voices of prayer and praise today as we think especially of Your birth on that first Christmas morning.
we pray that Your Holy Spirit will convict the hearts of many who have dismissed the truth of Christmas as a nice little story.
Bring many we pray,
to see Christmas in a new light this year,
and may they come to an understanding of the real meaning of Your birth at Bethlehem,
so that they may see the Christmas story this year in all its glorious beauty. Amen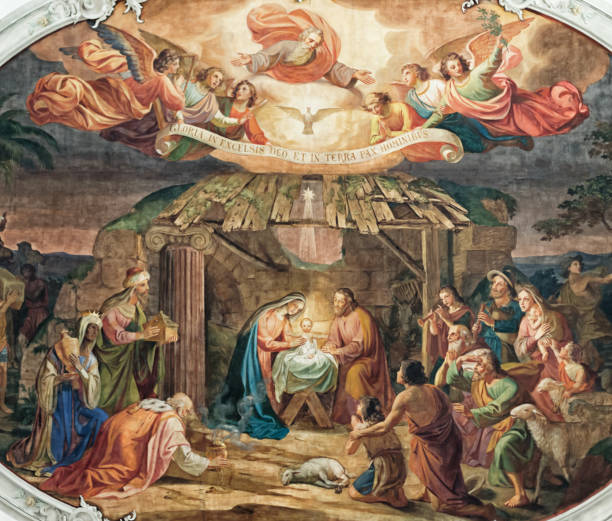 November is the month of remembrance.
During this month we think about all those who have died and gone before us. As Catholics we believe that we should pray for their souls and that are eternally at peace in heaven. This year, in particular we remember especially those who have died during the pandemic.
We pray for confidence in the loving mercy of God, for faith in the Resurrection to new life, and for the hope of being reunited in God's kingdom.
During the month of November pupils and staff have been uploading prayers for the deceased onto a noticeboard called Padlet.
If you wish to read the prayers and / or upload your own prayers for those who have passed click on the link below.
https://padlet.com/cheethama/7elda43vh8wjh00v
October - the Month of the Holy Rosary
In school pupils are learning about the importance of Mary in the month of October. They are being invited to write prayers of petition to Mary in school. You are invited to take part too, by placing your prayers of petition online on Padlet.
If you scan the QR code below you will be taken to a noticeboard. Click the + in the corner and type your prayer. You will then be told that your message is pending. You will also be able to read other prayers and intercessions - it is completely confidential unless you want to add your name.
Staff Liturgy at the beginning of the new school Year - 2020/21.
School reopened for staff this Tuesday. An integral part of our coming back together is our annual staff liturgy, which this year was celebrated in faculties in the school Chapel. Each faculty had its own unique theme to reflect on, as staff once again rededicated themselves to life at Fisher More as colleagues, educators and friends.
RE and Humanities focused on kindness for their celebration, while English and MFL planned prayers and reflections around our many blessings. Maths and ICT focussed on humility whilst courage was the theme for Science, technology and vocational subjects. The final faculty – PE and Creative Arts explored strength.
The liturgies presented by each faculty were beautiful and moving. They all offered thoughtful and varying insights into their chosen theme. These included examples from personal stories, cards, reflections, and prayers – Christian and Muslim, music and song to artwork, cupcakes, plants, brownies, ribbons and bookmarks – see photos below.
One member of staff commented: "it was lovely that everyone brought their own interests and skills to their liturgy and we got to share different ideas on the same theme".
Jesus taught his disciples how to pray, so that they would not only experience God's love and mercy but also be fed spiritually for the great work of evangelisation that was being asked of them. Two thousand years on, it is the same for us today. We are also invited to recommit to the life of prayer as food and fuel for our journey with the Lord, and so become missionary disciples.
Each liturgy concluded with a prayer and final rededication of service to the Fisher More community.
Pope Francis' prayer during July is that "families be loved, respected, guided"
The last few weeks have shown us the importance of having patience and understanding with each other in our families. In his prayer intention for the month of July 2020, Pope Francis asks everyone to pray that today's families may be accompanied with love, respect and guidance.Please click on the link to hear the Holy Father's intention for July.
The family ought to be protected.
It faces many dangers: the fast pace of life, stress…
Sometimes, parents forget to play with their children.
The Church needs to encourage families
and stay at their side,
helping them to discover ways that allow them to overcome all of these difficulties.
Let us pray that today's families may be accompanied with love,
respect and guidance,
and especially, that they may be protected by the State.
The Solemnity of SS Peter and Paul
The Feast of SS Peter and Paul is an annual celebration in the Christian calendar of the lives and martyrdom of the two great saints: Peter and Paul.
Commemorating the lives of important Christian saints and martyrs, and especially one of the Twelve Apostles or somebody who knew Jesus personally, has been an important aspect of Christian life ever since the first century CE.
The joint feast day of SS Peter and Paul is of particular importance because of the enormous influence that these two men had on the development of the early Church.
Let us pray together:
Dear Lord, enkindle Your fire that flickers inside me
and let it become a big flame
that brightens other people's lives.